---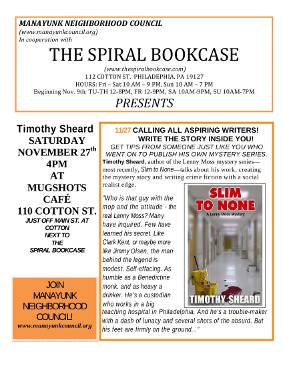 Saturday November 27th, 2010 at 4 PM
CALLING ALL ASPIRING WRITERS! WRITE THE STORY INSIDE YOU! GET TIPS FROM SOMEONE JUST LIKE YOU WHO WENT ON TO PUBLISH HIS OWN MYSTERY SERIES.
MANAYUNK NEIGHBORHOOD COUNCIL, In cooperation with THE SPIRAL BOOKCASE (PURVEYORS OF THE PRINTED PAGE) PRESENTS
Saturday, November 27th at 4 PM AT MUGSHOTS CAFE, 110 COTTON ST. JUST OFF MAIN ST, NEXT TO SPIRAL BOOKCASE:
Timothy Sheard, author of the Lenny Moss mystery series--most recently, Slim to None--talks about his work, creating the mystery story and writing crime fiction with a social realist edge.
About Tim Sheard's protagonist Lenny Moss: "Who is that guy with the mop and the attitude - the real Lenny Moss? Many have inquired. Few have learned his secret. Like Clark Kent, or maybe more like Jimmy Olsen, the man behind the legend is modest. Self-effacing. As humble as a Benedictine monk, and as heavy a drinker. He's a custodian who works in a big teaching hospital in Philadelphia. And he's a trouble-maker with a dash of lunacy and several shots of the absurd. But his feet are firmly on the ground..."